Independence Day - Dzień Niepodległości
To commemorate Remembrance Day and Independence Day in Poland, Katy Carr will be singing songs specially chosen from her latest album POLONIA in the beatiful setting of the Ballroom at Ognisko Polskie. Special guests include the Aviators musicians Guy Schalom, Steve Beresford and Oliver Parfitt, British film director Hannah Lovell, Clare Mulley author of "The Spy who Loved" - biography of Churchill's favourite spy Krystyna Skarbek and Aileen Orr author of "Wojtek the Bear: Polish War Hero".

Katy Carr is a British recording artist, singer, performer, songwriter and aviator currently residing in London Town, England. An independent musician, she has released four albums on her label Deluce Recordings, 'Screwing Lies' (2001), Passion Play (2003), Coquette (2009 ), Paszport (2012) with a fifth album 'Polonia' scheduled for release in November 2015.
Born in Nottingham, to British and Polish parents, Katy lived in Poland (her mother's country) as a child where she learnt the Polish language at elementary level as well as absorbing aspects of Polish culture, traditions and music. At five years old she started primary school in Great Britain and showed musical promise from an early age, winning cups for singing at competitions across the East Midlands.
As a teenager, Katy became deeply inspired by aviation and wanted to become a fighter pilot. She joined the Air Training Corps and achieved the bronze, silver and gold Duke of Edinburgh awards and a Royal Air Force flying scholarship which led to music school and a creative career was born.
Armed with a combination of military discipline and musical creativity, Carr was well placed for a career in which her idiosyncrasy as a musician meant she'd have to forge ahead under her own steam. Her dulcet and often haunting vocals have been heard everywhere from the Royal Opera House, to Glastonbury and more recently across Poland and Polish diaspora communities worldwide.
Katy Carr's unaffected love of the 1930s and 1940s, plus dedication to her art and her spiritual era are all the more precious for paying as much attention to the vagaries of the human heart as to those subjects which hint at how low humanity can sink. She's a true original, standing out like the spark generated by a Swan Vesta applied to a cigarette in the Blackout.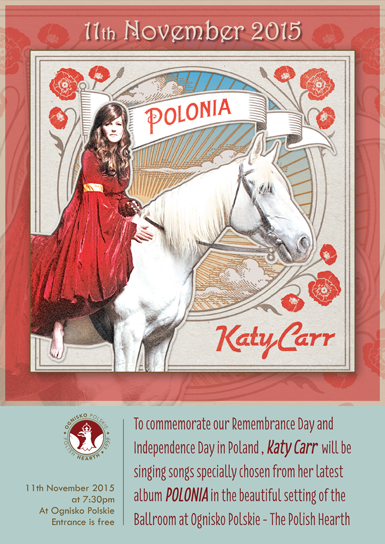 Further information about Katy Carr can be found on her website - View
Date: 11 November 2015
Time: 7:30 p.m.
Member Ticket Price: Free but reservations are needed.
Non-member Ticket Price: Free but reservations are needed.
Buying Tickets: RSVP to Office@OgniskoPolskie.org.uk