HRH THE DUKE OF KENT: A Life Of Service
Celia Lee would like to introduce you to the first ever academic study of a life of a member of the royal family. She spent many years researching this book and was overwhelmed by the interest in His Royal Highness The Duke Of Kent. She hopes the book will help readers to understand the importance of the work he has carried out for our country for more than 50 years. Ognisko Polskie features prominently in several chapters, illustrated with photographs.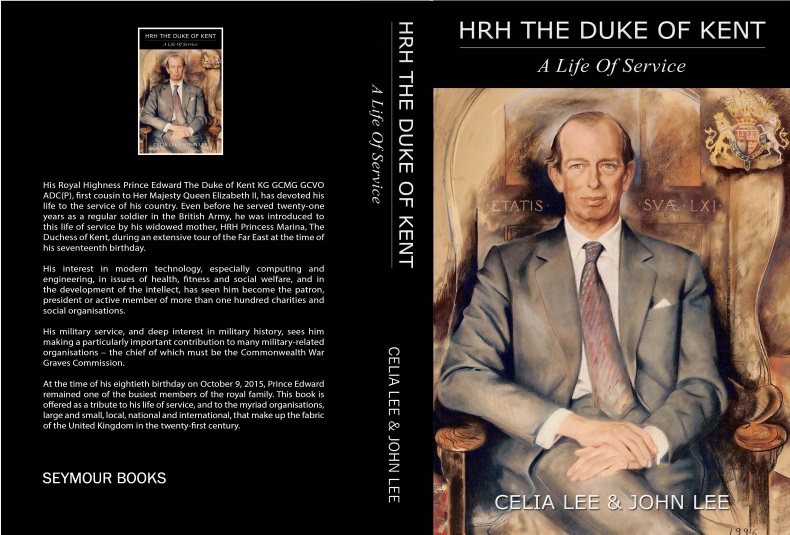 Description
His Royal Highness Prince Edward The Duke of Kent KG GCMG GCVO ADC(P), first cousin to Her Majesty Queen Elizabeth II, has devoted his life to the service of his country. Even before he served twenty-one years as a regular soldier in the British Army, he was introduced to this life of service by his widowed mother, HRH Princess Marina, The Duchess of Kent, during an extensive tour of the Far East at the time of his seventeenth birthday.
His interest in modern technology, especially computing and engineering, in issues of health, fitness and social welfare, and in the development of the intellect, has seen him become the patron, president or active member of more than one hundred charities and social organisations.
His military service, and deep interest in military history, sees him making a particularly important contribution to many military-related organisations – the chief of which must be the Commonwealth War Graves Commission.
At the time of his eightieth birthday on October 9, 2015, Prince Edward remains one of the busiest members of the royal family. This book is offered as a tribute to his life of service, and to the myriad organisations, large and small, local, national and international, that make up the fabric of the United Kingdom in the twenty-first century.
Signed copies of the book will be on sale for £20 cash or cheque.
Where to buy
Book with hard cover - ISBN Number: 978-1-51722-060-0 - [photos in black and white] - £20. Postage free.
Kindle format ebook - ISBN Number: 978-1-84396-350-9 - [photos in colour] - £9.99.
ePub format ebook - ISBN Number: 978-1-84396-351-6 [photos in colour] - £9.99.
Amazon UK - www.amazon.co.uk
Amazon USA - www.amazon.com
Amazon France - www.amazon.fr
Amazon Germany - www.amazon.de
Amazon Italy - www.amazon.it
Amazon Spain - www.amazon.es
Book Depository UK - www.bookdepository.com
iTunes iBookstore Poland - itunes.apple.com
Date: 18 November 2015
Time: 6:30 p.m. for 7:00 p.m.
Member Ticket Price: £ 25 including buffet and wine.
Non-member Ticket Price: £ 30 including buffet and wine.
Buying Tickets: Payment Information can be found here - View