Fundraiser: Armia Krajowa Memorial by Wawel
You are warmly invited to our special fundraising event for the WW2 Polish Home Army (Armia Krajowa) Memorial at the foot of the Royal Castle - Wawel - in Krakow, Poland. Katy Carr will be singing songs inspired by Poland's contribution during WW2 in fighting for world peace, from her acclaimed albums Paszport and Polonia. You will have the opportunity to purchase a space to inscribe your name on the Plaque of Memory of the memorial. Prices for name inscriptions start at £20,000 for the largest name inscription down to £20 for the smallest space as this is a memorial for everyone to join.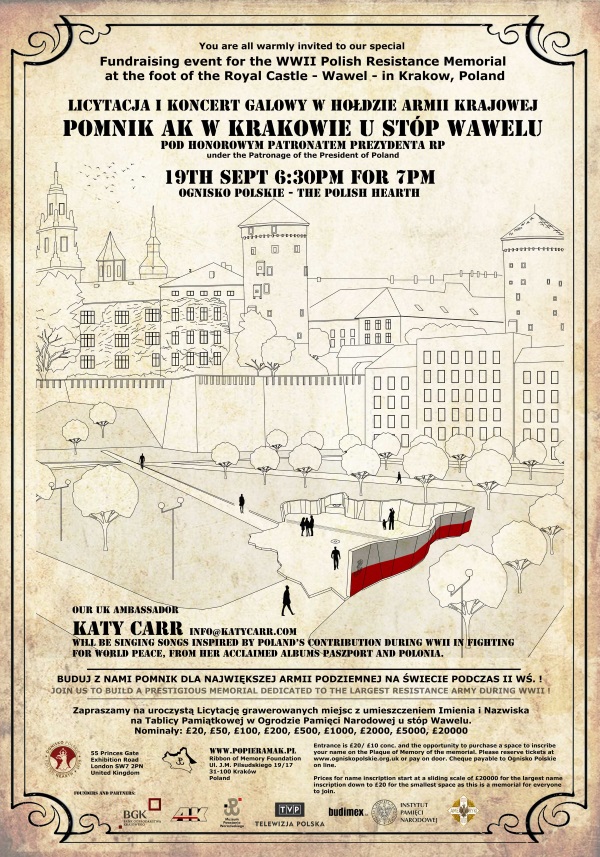 The Home Army (Armia Krajowa)
The Home Army (Armia Krajowa) numbering about 400,000 and representing the bulk of Polish resistance, was the largest resistance movement in Nazi-occupied Europe. Its allegiance was to the Polish Government-in-Exile, and it constituted the armed wing of what became known as the "Polish Underground State". It is most notable for disrupting German supply lines to the Eastern Front, providing military intelligence to the British, and for saving more Jewish lives in the Holocaust than any other Allied organization or government.
The Home Army, in support of the Soviet military effort, tied down substantial German forces numbering nearly one million men. It destroyed much-needed German supplies such as transports headed for the Eastern Front in the Soviet Union. In total nearly 7,000 locomotives, 19,000 wagons and over 4,000 army vehicles were damaged or destroyed.
The Home Army supplied valuable intelligence to the Allies; 43% of all reports received by the British secret services from continental Europe between 1939 and 1945 came from Polish sources. Until 1942 most British intelligence on Germany came from Home Army reports. The Armia Krajowa provided the Allies with crucial intelligence on the German V-1 and V-2 rockets. Some 50 kg of the most important parts of a captured V-2, as well as the final report, analyses, sketches and photos, were transported to Brindisi by a Royal Air Force Douglas Dakota aircraft. In late July 1944, the V-2 parts were delivered to London.
It also fought several full-scale battles against the Germans, particularly in 1943 and in Operation Tempest in 1944. The most widely known Home Army operation was the 1944 Warsaw Uprising. The Army also defended Polish civilians against atrocities perpetrated by German and collaborationist non-German militaries.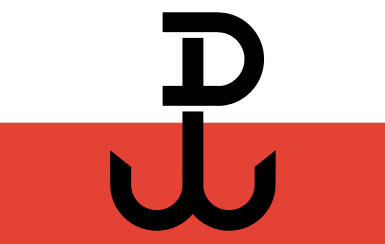 The symbol of the Home Army was an anchor made from the letters P W, standing for Polska Walczy, Poland Fights.
Because the Home Army was loyal to the Polish Government-in-Exile, the Soviet Union saw it as an obstacle to a Soviet takeover of Poland. Consequently, over the course of the war, conflict grew between the Home Army and Soviet forces. By war's end, some 60,000 Home Army soldiers had been arrested, 50,000 of whom were deported to Soviet Gulags and prisons; most of these soldiers had been taken captive by the Soviets during, or in the aftermath of, Operation Tempest, when many Home Army units tried to work together with the Soviets in a nationwide uprising against the Germans. Other Home Army veterans were arrested when they approached Polish communist government officials after having been promised amnesty. Many of the AK's members were murdered during the communist seizure of power and buried secretly in unnamed graves. The finding of these graves and the identification of those murdered is an ongoing process in Poland and yesterday saw the funeral of two of those AK members. View.
Katy Carr
Katy Carr is a British recording artist, singer, performer, songwriter and aviator currently residing in London Town, England. An independent musician, she has released four albums on her label Deluce Recordings, 'Screwing Lies' (2001), Passion Play (2003), Coquette (2009), Paszport (2012) and 'Polonia' released in November 2015.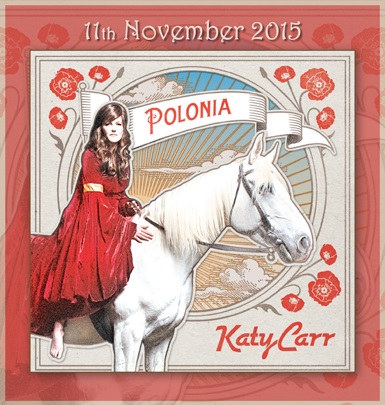 Born in Nottingham, to British and Polish parents, Katy lived in Poland (her mother's country) as a child where she learnt the Polish language at elementary level as well as absorbing aspects of Polish culture, traditions and music. At five years old she started primary school in Great Britain and showed musical promise from an early age, winning cups for singing at competitions across the East Midlands.
As a teenager, Katy became deeply inspired by aviation and wanted to become a fighter pilot. She joined the Air Training Corps and achieved the bronze, silver and gold Duke of Edinburgh awards and a Royal Air Force flying scholarship which led to music school and a creative career was born.
Armed with a combination of military discipline and musical creativity, Carr was well placed for a career in which her idiosyncrasy as a musician meant she'd have to forge ahead under her own steam. Her dulcet and often haunting vocals have been heard everywhere from the Royal Opera House, to Glastonbury and more recently across Poland and Polish diaspora communities worldwide.
Katy Carr's unaffected love of the 1930s and 1940s, plus dedication to her art and her spiritual era are all the more precious for paying as much attention to the vagaries of the human heart as to those subjects which hint at how low humanity can sink. She's a true original, standing out like the spark generated by a Swan Vesta applied to a cigarette in the Blackout.
Further information about Katy Carr can be found on her website - View
Date: 19 September 2016
Time: 6:30 p.m. for 7:00 p.m.
Member Ticket Price: £20
Non-member Ticket Price: £20
Student Ticket Price: £10
Buying Tickets: Payment Information can be found here - View