Fish Soup in Odessa by Szymon Bogacz
This award-winning monodrama is Sebastian Ryś's personal tribute to Jan Karski, the most famous Polish emissary during the Second World War. What if one man could change the course of history? What if one man could save the lives of many? What if the hero existed, but his voice remained unheard? What if the struggle against indifference still continued sixty years on? This is the voice of the young generation resurrecting the unfinished story of a forgotten hero. Set in a new world order, where Polish is widely spoken. A world which never existed. Where the courage of a single man saved the lives of many. Where thanks to one man's devotion and persistence, millions of would-be victims of the Holocaust are still alive. Would he be a star? An icon? A popular super-hero? This play is in English.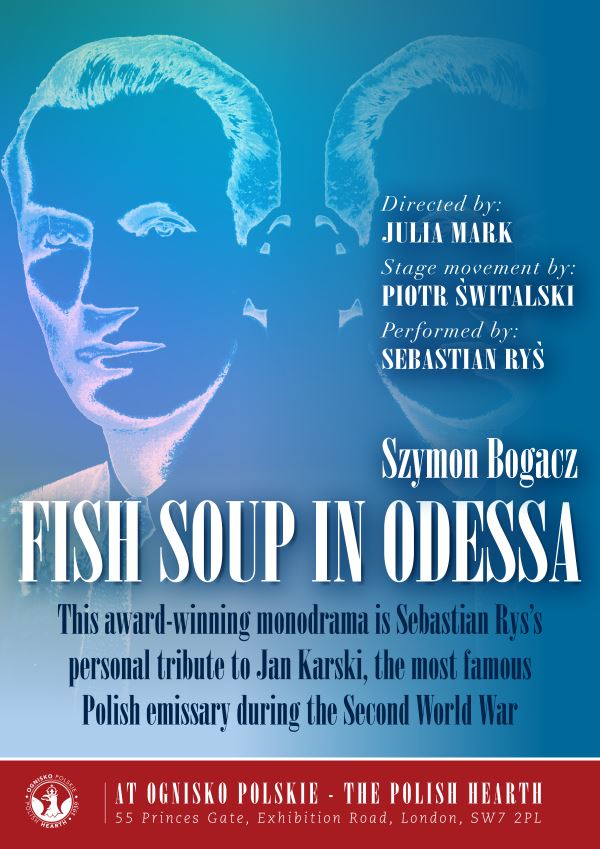 In English
Let me take you on a journey through the realms of human inquisitiveness, indifference, deceit and human evil. The world of "FISH SOUP in ODESSA" is a world in which Jan Karski's scars deserve to be called the scars of freedom. The story is alternately real and imagined, divine and earthly, touching and cynical, but always intriguing and deeply moving. Let me be the voice of the young generation presenting our interpretation of this history.
"Fish soup in Odessa" is Sebastian Rys's personal tribute to Jan Karski, the most famous Polish emissary, whose secret reports on the situation in occupied Poland reached Franklin D. Roosevelt, the President of the United States of America. Karski's story is directly entwined with the fate of the artist's family. His grandfather – Zbigniew Ryś – commander of a Home Army unit, along with his younger sister – the outstanding actress Zofia Rysiówna - accomplished an unprecedented rescue of Jan Karski from German custody in a hospital in Nowy Sącz. Karski, held under strict security, was a key prisoner for the Reich. Sebastian Ryś's grandfather, Zbigniew, mounted a successful campaign to smuggle Karski out of imprisonment. The operation was codenamed "Mission S". For her part in it, Zofia Rysiówna was sent to KL Ravensbrück. She survived four cruel years in the concentration camp. Zbigniew Ryś evaded the German soldiers and served as a secret courier for the Polish resistance. Based strictly on historical facts, this monodrama is Sebastian's personal perspective on the story.
"Literarily intriguing, superbly staged and directed, and performed with bravado by Sebastian Ryś" this monodrama was performed at Poland's most prestigious festivals. The play was awarded the Main Jury Prize at "Festival North Arrow" in Koszalin in 2015, and two Jury Prizes during the Theater Festival "Solo" Olsztyn OSTJA in 2016. And Main Prize during XLIII Theatrical Meetins in Tychy. The play's author Szymon Bogacz, won Best Playwright in 2014 for "Fish Soup in Odessa". Professor Jan Karski was recognized as a Righteous Among the Nations and awarded the Presidential Medal of Freedom by the US President Barack Obama. Undoubtedly, Jan Karski has became the moral milestone of the 20th century generation.
Po Polsku
Spektakl o Janie Karskim, najsłynniejszym Polskim Emisariuszu, z którym splotły się dzieje mojej rodziny. "Zupa rybna w Odessie" bo taki nosi tytuł ten monodram, w jedyny w swoim rodzaju sposób ujmuje zapis wojennej drogi Karskiego, jego pogoni za ludzkim życiem i godnością. Jest to także historia o mojej rodzinie. Nazywam się Sebastian Ryś. Mam 29 lat i pochodzę z Wrocławia. Jestem z wykształcenia aktorem, absolwentem Akademii Teatralnej w Warszawie.
Mój dziadek, Zbigniew Ryś, Oficer i Kurier Armii Krajowej, pseudonim "Fantom", w 1940 roku był dowódcą udanej Akcji "S", polegającej na wykradzeniu Jana Karskiego z Nowosądeckiego szpitala. W Akcję zaangażowana była również siostra mojego dziadka, Zofia. W stroju zakonnicy, weszła do szpitala i nawiązała kontakt z Karskim. Po wojnie, Zofia, a dokładnie Zofia Rysiówna, była jedną z największych aktorek XX wieku w Polsce. Pomoc Karskiemu, przypłaciła czteroletnim pobytem w Obozie w Ravensbrück.
Poprzez te wydarzenia i moją więź emocjonalną, cały projekt stawia moje działania nie tylko w jak najwyższej koncentracji aktorskiej, ale jest również zobowiązaniem honorowym wobec członków mojej rodziny, spuścizny Ich i Jana Karskiego. Opowieść o losach Jana Karskiego to wspólna wędrówka bohatera spektaklu i obecnych widzów na sali. Śledząc jego losy poznajemy też kulisy decyzji światowych mocarstw, które nie uwierzyły w tragiczną relację. W monodramie właśnie uwierzyli, a Karskiemu się udało!
Historia ujęta w 50 minutową podróż po meandrach ludzkiej dociekliwości, obojętności i fałszu, a także ludzkiego zła. Fabuła spektaklu jest na przemian prawdziwa lub zmyślona; wzruszająca lub cyniczna, ale zawsze głęboko intrygująca. Jan Karski to postać międzynarodowa.Monodram jest ważnym głosem młodego pokolenia odnoszącym się do historii współczesnej Polski oraz wyrażający swój stosunek do świata. Proponuję współdziałanie w tym projekcie, który jestem przekonany okaże się wspaniałą okazją do szerzenie Polskiej Kultury za granicami kraju.
Uważam, że Londyn jest właściwą miejscem do pokazania spektaklu właśnie o tym wielkim Polaku, który z determinacją przybył również do Anglii, gdzie Generałowi Sikorskiemu zdawał relacje o sytuacji w okupowanej Polsce.
Do tej pory monodram był pokazywany w wielu miejscach. Oto niektóre z nich. "Festiwal Singera" w 2015 roku do Warszawy. Podczas Festiwalu monodramów w Koszalinie 2015, spektakl został nagrodzony główną nagrodą jury, Statuetka "Strzała Północy". Szymon Bogacz, autor, za tekst "Zupy rybnej..." został nagrodzony mianem Najlepszego Dramaturga 2014 roku. Festiwal Monoblok w Gdańsku. Instytut Teatralny, Muzeum Ak w Krakowie, Ambasada Polska w Waszyngtonie.
Date: 31 October 2016
Time: 6:30 p.m. for 7:00 p.m.
Member Ticket Price: £12
Non-member Ticket Price: £15
Buying Tickets: Payment Information can be found here - View