Film: 303 Kosciuszko Squadron
The film tells the story of the most successful squadron of the Battle of Britain - the Polish 303 Kosciuszko Squadron - through the eyes of two veteran pilots of the Squadron: Franciszek Kornicki and Stanislaw Socha, as well as through the children of three spectacular aces of 303 Squadron: John Kent, the Canadian Flight commander, Witold Urbanowicz, the legendary Polish commander of 303, Miroslaw Feric, also a chronicler of the squadron.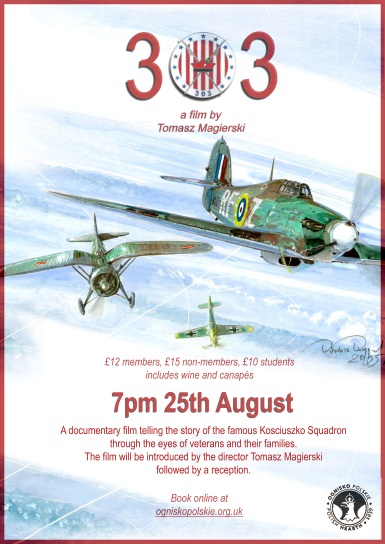 Synopsis
It is a story of personal courage against great odds when the fate of WW2 was at stake. It shows heroic men and their perseverance in living up to the Kosciuszko motto of fighting "for our freedom and yours". I believe that this story of men of the greatest generation conveys a universal message which viewers can identify with. The film also explores an American connection, as the Kosciuszko Squadron was established in 1919 in Poland by American volunteer pilots, including Merian Cooper, and it's insignia was designed by another American pilot, Elliott Chess.
Date: 25 August 2016
Time: 7:00 p.m.
Member Ticket Price: £12 including wine and canapes.
Non-member Ticket Price: £15 including wine and canapes.
Student Ticket Price: £10 including wine and canapes.
Buying Tickets: Payment Information can be found here - View