Gawain and Nikki Douglas
Gawain and Nikki Douglas met as students at The Royal Academy of Music in 1969. They formed a duo (piano and voice), were married, moved to Deal and began their family. Since then both have followed a career in teaching in Kent and have also performed as a piano duo at festivals throughout the UK. In more recent years Nikki has frequently provided musical interludes to Gawain's poetry readings.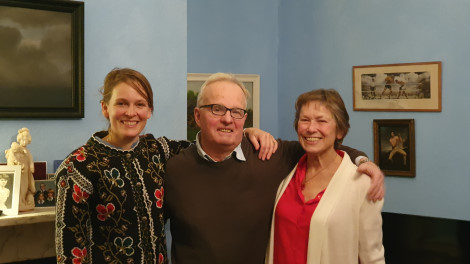 In 2000 Gawain began his second career as a performing poet. He recorded almost all the poetry of his great uncle, Lord Alfred Douglas, and in 2000 he took part in The National Portrait Gallery's celebration of the Oscar Wilde centenary, with a recital of Bosie's poetry. In april 2004, following several London performances, Gawain performed his one-man theatrical piece, 'The Wastes of Time', based on Shakespeare's sonnets, at The Shakespeare Institute in Stratford upon Avon, as part of the Shakespeare birthday celebrations. In May 2005 Gawain gave his talk 'Oscar Wilde and The Black Douglas' in The Grill Room of London's Cafe Royal, the scene of famous meetings between Wilde and Douglas. More recently Gawain has devoted much time to the study of T.S.Eliot's work and has given several performances of his poetic masterpiece, 'Four Quartets', including readings at the Deal Summer Music festival and The Canterbury Festival . In 2007 he was invited to take part in The prestigious Port Fairy festival in Australia where he spoke about his family and again recited Four Quartets . In 2009 Alma Books published 'Fortuna', a collection of Gawain's poetry.
Natasha is a very well known and successful singer, songwriter, choir leader and community musician base in Deal in Kent.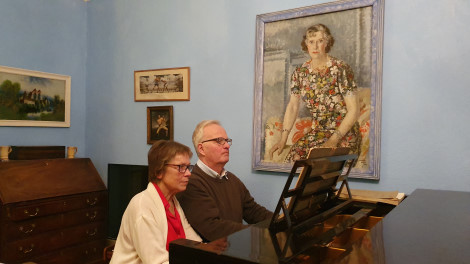 Programme
Nicolette and Gawain, Suite no 1 Opus 52 for piano duet: Prelude, Nocturne, Dance York Bowen
Natasha, Nikki and Gawain, Four songs for piano and voice musical saw and violin. opus 74, Chopin
Nikki and Gawain piano duet with Natasha on saw 'By the Dark Lake', from The Bohemian Forest opus 68. Dvorak
Gawain Five sonnets by Shakespeare, and 'All the World's a Stage' from As You Like It Gawain Three mazurkas Chopin
Gawain and Nikki piano duet, 'The Spinning Room' from the Bohemian Forest opus 68 Dvorak