Christmas Bazaar - Kiermasz Świąteczny 2017
There will be live music and a selection of Christmas drinks and food will be available from the Ognisko Restaurant. There will be stalls with lovely things to buy for presents, to decorate your house and tree or something special for yourself. All proceeds from the Bazaar will be going to Medical Aid for Poland Fund. It's on both days from 12 o'clock, so come and enjoy the mulled wine and pączki and support our Polish Charity!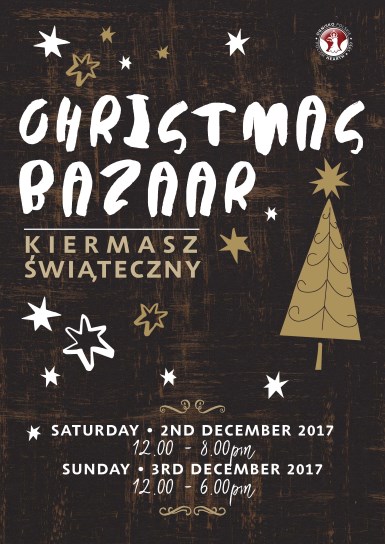 Medical Aid for Poland
In August 1981, in the midst of the Polish people's struggle against communism, the Federation of Poles in Great Britain received a letter from Solidarity Chairman Lech Wałesa appealing for medical aid. In September Dr. Bożena Laskiewicz and her colleagues sent the first container of supplies to Poland. The Medical Aid for Poland Fund was founded shortly afterwards.
On 13 December 1981 General Jaruzelski declared Martial Law and sent tanks on to the streets of Poland. M.A.F.P. sent their first three trucks of aid in January and two in February 1982. In total our Fund sent 335 trucks of aid to Poland, the last in 1996. By then it had become practical to buy medical supplies and equipment in Poland directly.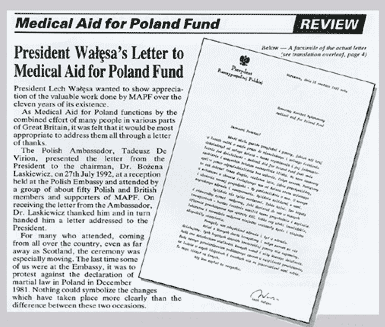 The fall of communism enabled Poland to introduce many economic reforms leading to a steady improvement in living conditions. Much progress has been made in the country and a new wealthy elite has appeared. But millions of poor in the countryside, the industrial suburbs, in closed factory towns and left behind in the poorest parts of today's Ukraine, Belarus, and scattered throughout Asia, remain in need of our help.
The Charity raises funds to purchase medical supplies and equipment. Not only hospitals, but also care homes, children's homes, special schools and on some occasions individuals in need are helped. The range of assistance is wide: medicines, wheelchairs, prostheses (artificial limbs), insulin pumps for children with type 1 diabetes, incontinence pads, drugs, rehabilitation equipment, rehabilitation courses for handicapped children, orthopaedic equipment, hearing aids, subsidising a children's eye clinic, oxygent tents, specialist beds, and many others.
More information can be found on Medical Aid for Poland's website: View
Date: From 02 December 2017 to 03 December 2017
Time: Saturday 12 p.m to 8 p.m - Sunday 12 p.m. to 6 p.m.
Buying Tickets: Free