Opening of 'Chopin in Vienna' exhibition
The Chopin Society UK opens Piotr Szalsza's exhibition "Chopin in Vienna" with a short piano recital by Ingolf Wunder, in the presence of HE Mr. Witold Sobków The Polish Ambassador, followed by a reception with wine and canapés.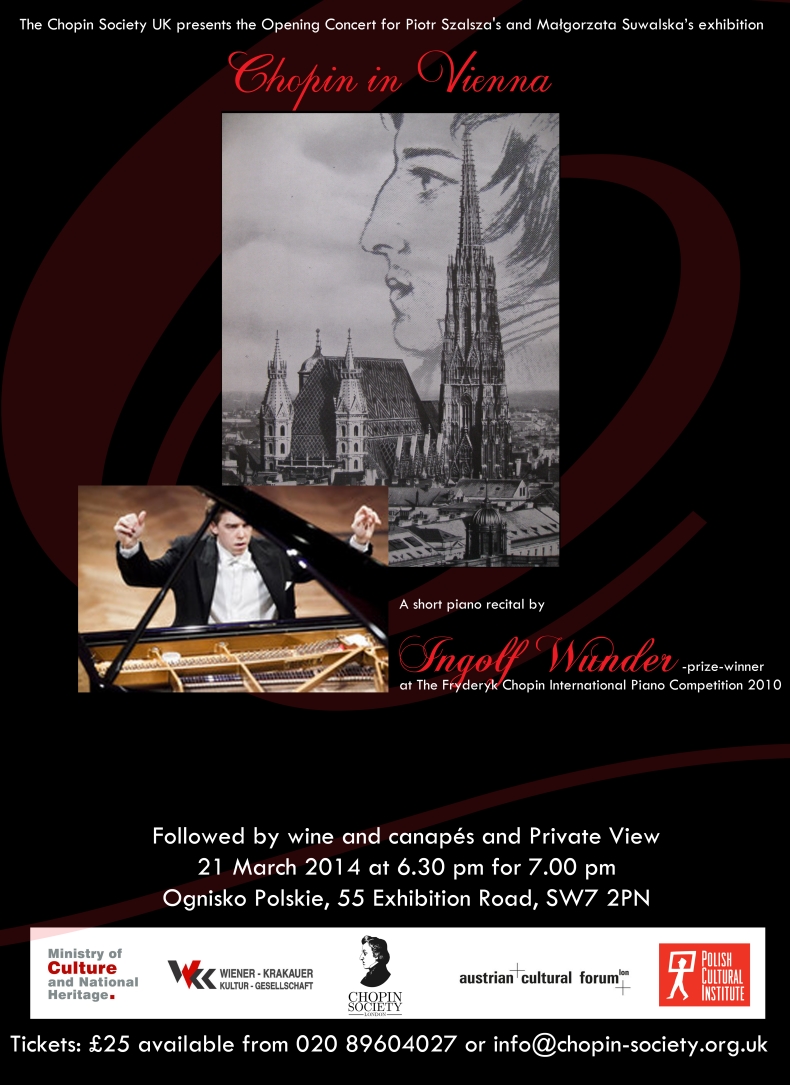 INGOLF WUNDER is the 2nd Overall Prizewinner and Winner of the Polonaise and Concerto Prizes at the XV1 International Fryderyk Chopin Piano Competition in 2010. From 2008 until 2010 he studied under Adam Harasiewicz - himself winner of Chopin Competition in 1955. He has performed in many parts of the world, including Austria, France, Germany, China, Luxembourg, Cyprus, Belgium, Spain, Portugal, and the USA as well as the Czech Republic, Argentina, Hungary, Italy and Poland, both in solo recital and with orchestra. In January 2011 he was signed to Deutsche Grammophon.
Programme
CHOPIN Nocturne No. 9 in B, Op.32
CHOPIN Waltz in Ab, Op. 34 No.1 
CHOPIN Ballade No. 1 in G minor, Op.23 
CHOPIN Andante spianato et Grande Polonaise brillante Op.22 
CHOPIN Fantaisie-Impromptu in C-sharp minor, Op. posth.66
Tickets must be booked and paid for in advance.
Non-members can book online via this link: http://www.wegottickets.com/event/262189  
or send a note of their requirements with a cheque written out to "The Chopin Society" and a self-addressed stamped envelope for the return of their tickets to:
Ognisko Bookings,
Chopin Society UK,
44 Bassett Road,
London W10 6JL  
Contact
Chopin Society Office
Telephone: 020 8960 4027
Email: info@chopin-society.org.uk
Date: 21 March 2014
Time: 6:30 p.m. for 7:00 p.m.
Member Ticket Price: £15 including wine and canapés.
Non-member Ticket Price: £25 including wine and canapés.
Buying Tickets: Payment Information can be found here - View