Charity Concert: The Hieronymus Quartet
We request the pleasure of your company at a Cocktail Reception and Charity Concert of music by Chopin, Beethoven, Mendelssohn and others, performed by the award-winning Hieronymus Quartet. The net proceeds will be divided between Ognisko Polskie - Polish Hearth and Medical Aid for Poland. The Quartet have prepared a special programme of Polish and modern and international classical music.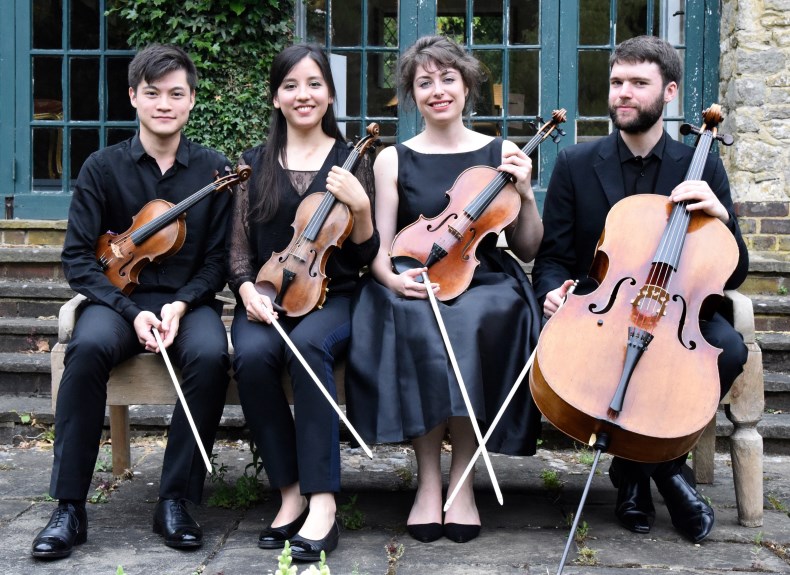 Programme
The Quartet have prepared a special programme of Polish and modern and international classical music which will include:
Mendelssohn Quartet in E flat major Op.44 No.3
Widmann Quartet No.2 "The Hunt Quartet"
Chopin An arrangement of a piano work by Chopin for string quartet
Beethoven Quartet in D Major Op.18 No.3
The Hieronymus Quartet
First prize winners of the CAVATINA Intercollegiate String Quartet Competition in 2012, the Hieronymus Quartet also won the Audience Prize. The quartet has since been acclaimed for its vivid and dynamic performances of the rich and complex string quartet repertoire. They have held residencies at Aldeburgh, participated in IMS Prussia Cove, where they received masterclasses from David Waterman and Ferenc Rados, and were selected for one of ChamberStudio's three prestigious Mentorships in 2014. Current projects include a Beethoven Cycle taking place at Music at Woodhouse in the Surrey Hills. The quartet's members hail from the UK, France and South Korea.
Medical Aid for Poland
In August 1981, in the midst of the Polish people's struggle against communism, the Federation of Poles in Great Britain received a letter from Solidarity Chairman Lech Wałesa appealing for medical aid. In September Dr. Bożena Laskiewicz and her colleagues sent the first container of supplies to Poland. The Medical Aid for Poland Fund was founded shortly afterwards.
On 13 December 1981 General Jaruzelski declared Martial Law and sent tanks on to the streets of Poland. M.A.F.P. sent their first three trucks of aid in January and two in February 1982. In total our Fund sent 335 trucks of aid to Poland, the last in 1996. By then it had become practical to buy medical supplies and equipment in Poland directly.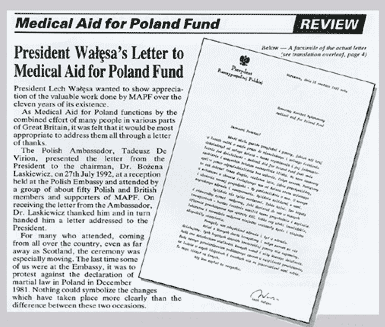 The fall of communism enabled Poland to introduce many economic reforms leading to a steady improvement in living conditions. Much progress has been made in the country and a new wealthy elite has appeared. But millions of poor in the countryside, the industrial suburbs, in closed factory towns and left behind in the poorest parts of today's Ukraine, Belarus, and scattered throughout Asia, remain in need of our help.
The Charity raises funds to purchase medical supplies and equipment. Not only hospitals, but also care homes, children's homes, special schools and on some occasions individuals in need are helped. The range of assistance is wide: medicines, wheelchairs, prostheses (artificial limbs), insulin pumps for children with type 1 diabetes, incontinence pads, drugs, rehabilitation equipment, rehabilitation courses for handicapped children, orthopaedic equipment, hearing aids, subsidising a children's eye clinic, oxygent tents, specialist beds, and many others.
More information can be found on Medical Aid for Poland's website: View
Date: 07 February 2016
Time: 6 p.m.
Member Ticket Price: £30 including elegant cocktails.
Non-member Ticket Price: £35 including elegant cocktails.
Buying Tickets: Payment Information can be found here - View