Zabawa Karnawalowa (Carnival Party) - Ostatki
Ognisko's Ballroom will be the setting for this year's Carnival Party, which coincides with Valentine's Day. The evening starts at 7.30pm with the singer Danuta Reutt, accompanying herself on guitar. Danuta has an international repertoire, as well as Polish songs from many genres. This is followed by, the multi-talented Alexei pianist, performer and singer, playing a variety of music from his eclectic repertoire. Then the versatile Tomski will once more be playing their seasoned mix of Polish and English music to dance to, till after midnight. At 8.30pm, Jan Woroniecki's Ognisko Restaurant will provide a delicious two-course buffet. The main course will consist of three options: Lamb & Aubergine, Kulebiak – Salmon in Pastry or a vegetarian dish. There will be herring too. Please let us know of any special dietary requirements. The meal together with a half bottle of wine or soft drink is included in the ticket price. There will also be a cash bar. Please let us know if you wish to reserve a table. We thank Mr Wladyslaw Mleczko of Mleczko Delicatessens for his generosity in donating raffle prizes The Carnival Party is organized by, Topaz, the Society of Polish Graduates and. Professionals, who are delighted to be helping Ognisko in its 75th anniversary year. All the profits are to go to Ognisko. They will enable the Club to continue in their efforts to improve facilities. There will also be an opportunity to appreciate the vibrant paintings from the Podlasie Impressions exhibition, which will be adorning the walls of the Ballroom. Dress is black tie or lounge suit and a mask if you wish. A last chance to dance, before the Lenten season begins ?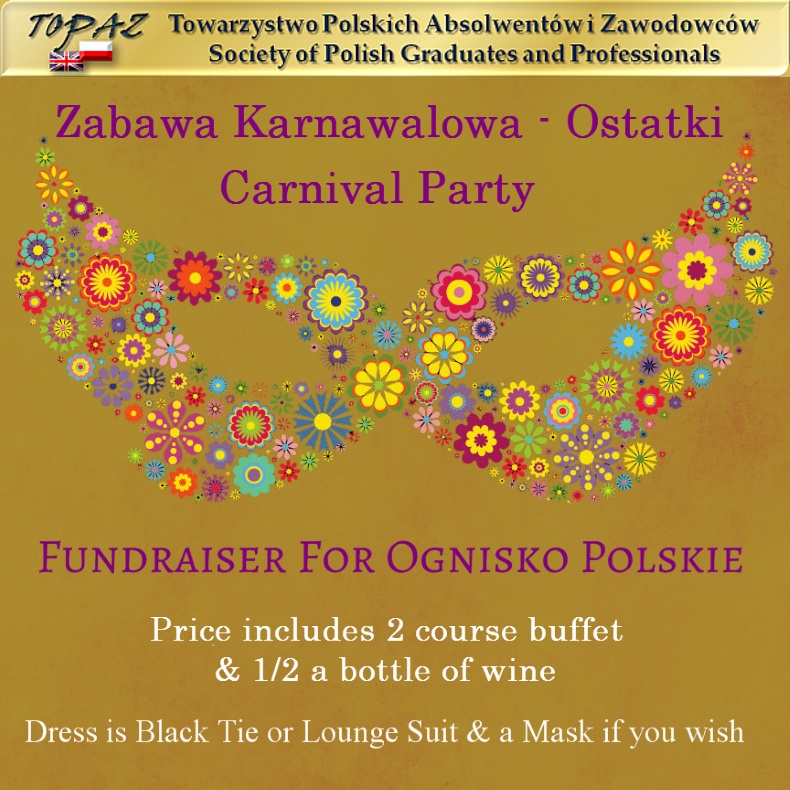 In Poland Ostatki (the last bits, leftovers) are the 3 to 5 days before the start of Lent, from Fat Thursday (Polish: Tłusty Czwartek), when pączki (doughnuts) are eaten to Śledzik (Shrove Tuesday) or Herring Day. In the past, carnival celebrations went on for many days but were most festive during the last three days, which were called, in some regions, dni szalone (crazy days).... There is a Polish saying, "Kto pije w ostatki ten jest piekny i gladki."(Who drinks at Ostatki is beautiful and smooth).
Date: 14 February 2015
Time: 7:30 p.m. to 12:30 a.m.
Member Ticket Price: (including Topaz members and students) £ 38 or £ 35 if purchased before 9th February
Non-member Ticket Price: £ 40 or £ 37 if purchased before 9th February
Buying Tickets: Payment Information can be found here - View