Autumn Leaves Party / Zabawa Jesienne Liscie
Ognisko Club is organizing a Dinner / Dance - the Autumn Leaves Party (Zabawa Jesienne Liscie) on Saturday the 17th October. This is the fourth of our series of increasingly popular Dinner / Dances which take place every quarter. The evening will start at 7.30pm to the mellow sounds of the alto saxophone as played by our regular guest Piotr. A delicious two course dinner will be served from about 8.15pm by Jan Woroniecki's Ognisko restaurant. The price also includes a half bottle of wine and a welcome glass of prosecco. The band "No Name" make a welcome return to Ognisko. They are Michal Grzelka and vocalist Malgorzata Patecka and and their repetoire is a mixture of the popular and traditional. "No Name" are much in demand on the Polish scene and this is a great chance to catch them at Ognisko. The evening will finish at 12.30am. Dress is black tie or lounge suit. Please contact us for table bookings or any dietary requirements.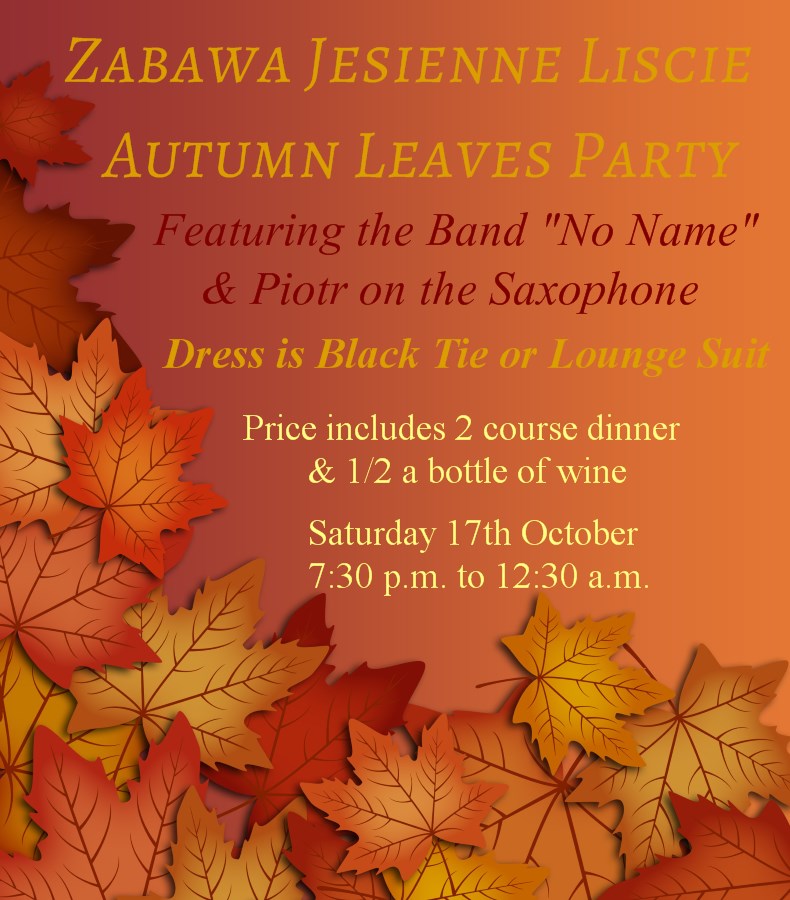 Date: 17 October 2015
Time: 7:30 p.m. to 12:30 a.m.
Member Ticket Price: £ 38 or £ 35 if purchased before 7th October
Non-member Ticket Price: £ 40 or £ 38 if purchased before 7th October
Student Ticket Price: £ 38 or £ 35 if purchased before 7th October
Buying Tickets: Payment Information can be found here - View