A tribute to the immortal diva - Maria Callas
THIS EVENT IS NOW SOLD OUT. On the 40th anniversary of her death the author and journalist Helena Matheopoulos will be giving a talk in tribute to Maria Callas. She will provide insight into her revolutionary career and unique soul. We hope you can join us for this fascinating evening learning what set this immortal diva apart from other singers in the world of opera. We look forward to seeing you there.
Maria Callas - The Sacred Flame
Forty years after her death, Maria Callas is worshiped every bit as ardently as she was during her lifetime: Her records outsell those of any other diva, past or present, and she seems to mesmerize a new generation of opera lovers as potently as she did the audiences of her own day: a phenomenon unique in the history of opera and, in the words of Kiki Morfoniou, (the distinguished Greek mezzo), "a phenomenon that has a metaphysical dimension. I feel that Maria just won't go away", she says. "I can feel her presence, floating around... Without she was The Voice of the Century."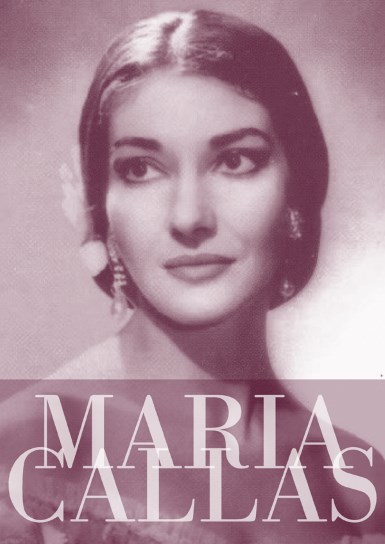 In fact, Callas was much more than that. More than the legend she was in her lifetime or the myth she became after her death. Very much more than a mere Diva or superstar. Again in the words of Kiki Morfoniou, "A sublime soul, a generous nature, the most tender and helpful colleague I have ever known, stamped by the divine gift of creativity."
This unique soul of hers is, the ultimate explanation behind the Callas Legend and Immortality. The distinguished Italian soprano Barbara Frittoli calls her "a comet, a beacon of light who shot through the operatic firmament, transforming forever the nature of opera operatic interpretation".
"Callas's career was revolutionary," stresses James Levine, former Artistic Director of the Metropolitan Opera. "In her hands, opera was invested with an unprecedented degree of musical\dramatic unity. This 'Callas Revolution', as it has come to be known, was so profound, thorough and far-reaching that, aided by inspired stage directors such as Luchino Visconti, it transformed opera -this hitherto musically sublime but often dramatically ridiculous genre- into believable theatre, an art form that could survive and thrive in an era such as ours, dominated by cinematic and televisual criteria of dramatic credibility. Indeed, one is fully justified in talking about opera BC and AC –before and after Callas.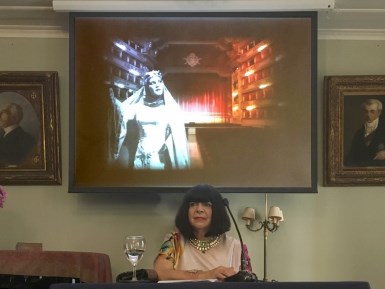 Helena Matheopoulos at the Corfu Literary Festival
She brought about this revolution by using the extraordinary beauty, colour and expressiveness of her instantly recognizable voice, her searing emotional intensity and magical stage presence solely as tools in the service of the music at hand. Indeed her true genius lay in her acute and unique musicality, that super-uber-acute musical sensitivity of hers which coloured the way she listened to the music, delving far deeper behind the notes and between the lines, intuiting and responding by reflex to the emotion that had gripped the composers when they wrote each specific note, line or scene. Indeed, she used to say that "the only stage director in opera is the composer. If you really listen to his music, with your inner ear, you will find everything you need for your interpretation, vocal or scenic, you will find the TRUTH."
This passionate, febrile, almost religious quest for the truth - musical, dramatic, emotional and spiritual - behind every character, every work and every composer is what sets Callas apart from any other singer in the world of opera. The secret of her art, in her own words, was "molta verita, molta sincerita, molta scienza, molta improvisazione." (A lot of truth, a lot of sincerity, a lot of technical expertise, a lot of improvisation). Leonard Bernstein likened her to "live electricity", while Luchino Visconti, who staged some of her greatest productions, considered her "not just unequalled - unequalable!"
How right he was! Her death, in 1977, was followed by Deification! She became a legend matched, perhaps, only by that of Caruso. On this 40th anniversary of her passing, it seems appropriate to remember her with the words at the Finale of Brahms's German Requiem: "Dass sie ruhen for Ihrer Arbeit, denn ihre Werke folgen ihnen nach." The words, from the Apocalypse of St John, mean "They should rest from their labours, for their deeds shall follow them."
Not for nothing did Zeffirelli's name his recent film about her "Callas Forever".
Date: 27 June 2017
Time: 7 p.m.
Buying Tickets: THIS EVENT IS NOW SOLD OUT.