Ćwiżewicz Brothers concert
The Virtuoso Violinists, Ćwiżewicz Brothers, play works by: Mozart, Handel-Halvorsen, Bartok, Prokofiev, Bacewicz, Birchall & Ćwiżewicz in aid of Fundacja Ex Animo im. Marii Sapiehy. THIS EVENT IS NOW SOLD OUT.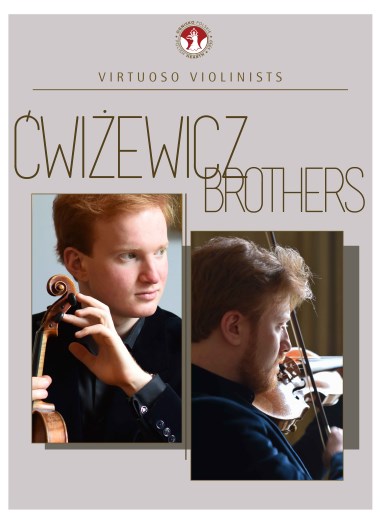 Programme
A recital that takes us across Europe, from the gracious virtuosity of Mozart's 2nd Duo to the fireworks Halvorsen's Passcaglia, known as the 'impossible duet'. Composed in 1943, the little-known Suite by towering Polish violinist and composer Grażyna Bacewicz, is a piece taut with the composer's love of past forms and her search for new modes of expression. At the centre of the recital is the titan of the two-violin repertoire, Prokofiev's Sonata Op. 56. Written in Paris during the composer's self-imposed exile after the Bolshevik Revolution,this was his experiment, and thereafter proof, that 'real music' could be written for such a diminutive ensemble. The quasi-symphony creates a dark and anxious foreboding of what was awaiting the young composer in his motherland.
The newest work is Delirium by English composer Richard Birchall written especially for Cwizewicz Brothers and premiered in 2015. It combines dizzying rhythmic and sound effects with virtuosic dancing humour typical of the two-violin repertoire. Beside their achievements as classical violinists, the Cwizewicz Brothers have been playing Eastern European folk music throughout their lives. Their recital is completed with a glimpse into mysterious Carpathian folklore, that of Transylvania in a series of miniatures by Bela Bartok, and of the Tatra Mountains through their own and Szymanowski's arrangements of Polish folk music.
Bacewicz - Suite for two violins (1943)
Birchall - Delirium (2015 - Cwiżewicz Brothers commission)
Mozart - Duo No. 2 in B-flat major for violin & viola, K. 424
Interval
Prokofiev - Sonata for Two Violins in C Major, Op. 56
Bartok - Duos for Two Violins, Sz. 98, BB 104
Ćwiżewicz - Tatra Melodies (2013)
Halvorsen - Passacaglia (after G.F. Handel)
Ćwiżewicz Brothers
The London-based duo of brothers Filip and Michał was founded in 2014, after years of informal collaboration. Rapidly establishing themselves as a unique chamber ensemble, they are championing lesser-known works, their own arrangements of classical and folk music, inviting new commissions as well as performing the capricious fireworks of the virtuosic two-violin repertoire. In 2016 the Ćwiżewicz Brothers' broadened their scope with the addition of violin-viola works, works with piano, their first concerto appearance as a duo with orchestra and concerts abroad in Berlin and Warsaw.
Quietly in the making since 1997 when 13-year-old Michał began teaching 2-year-old Filip, the duo have performed various works including those by Bacewicz, Bach, Bartók, Górecki, Kreisler, Sarasate, Spohr, Prokofiev, Wieniawski. Whilst they both studied with celebrated violin teachers and developed as classical musicians, their unusual musical upbringing also immersed them in the impassioned and angular folk music of the Carpathian Mountains in Eastern Europe as well as the wholly different sound-world of the Javanese Gamelan, which they played throughout their youth.
Building on this rich background they have recently commissioned two works: Delirium by Richard Birchall and Quartets for Two Violins and Balinese Gender Wayang by Nick Gray; the former was premiered in 2016 and the latter is planned for autumn 2017. Drawing on Polish Highlanders' folk tunes and Szymanowski's ballet The Brigands, their piece Tatra Melodies was premiered in Warsaw in 2015 together with dance and original choreography.
Date: 05 May 2017
Time: 7:30 p.m.
Member Ticket Price: £ 10 including wine.
Non-member Ticket Price: £ 15 including wine.
Buying Tickets: THIS EVENT IS NOW SOLD OUT.